TED™ Hair Restoration in Rhinebeck, NY
What Is TED Hair Restoration?
Hair loss is a sensitive concern affecting people of all ages, regardless of gender. Androgenetic alopecia, known as male and female pattern hair loss, is a very common type of hair loss that is characterized by progressive gradual thinning over time that can occur at any stage in life, deeply impacting one's confidence and sense of well-being.
At Encore Hair Center, we offer the latest advancement in hair restoration technology with the TED by Alma and the TED+ Hair Care Peptide Growth Formula for a non-surgical hair restoration procedure. This cutting-edge treatment utilizes acoustic energy and pressurized air to deliver the specialized TED+ Hair Care Formula directly into the hair follicles, stimulating blood flow, and carrying vital growth factors necessary for hair growth, thickness, and attachment. These regenerative factors together can help slow hair loss and improve the health of the scalp.
Alma TED (which stands for Trans Epidermal Delivery) is transforming the hair restoration industry. To learn more about the benefits of this revolutionary treatment, schedule a consultation at our Rhinebeck, NY center.
Before & After Photos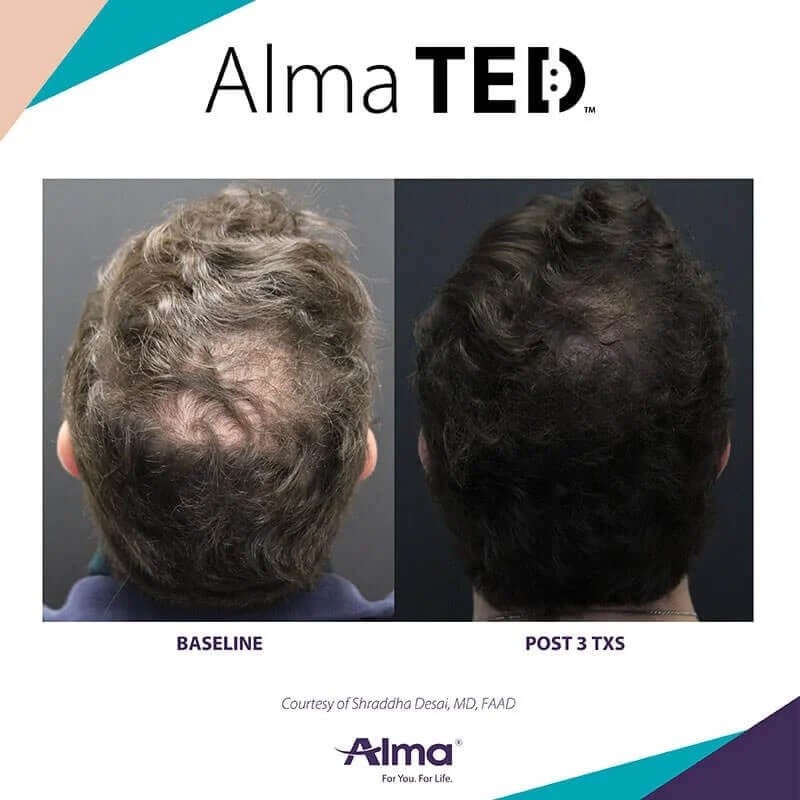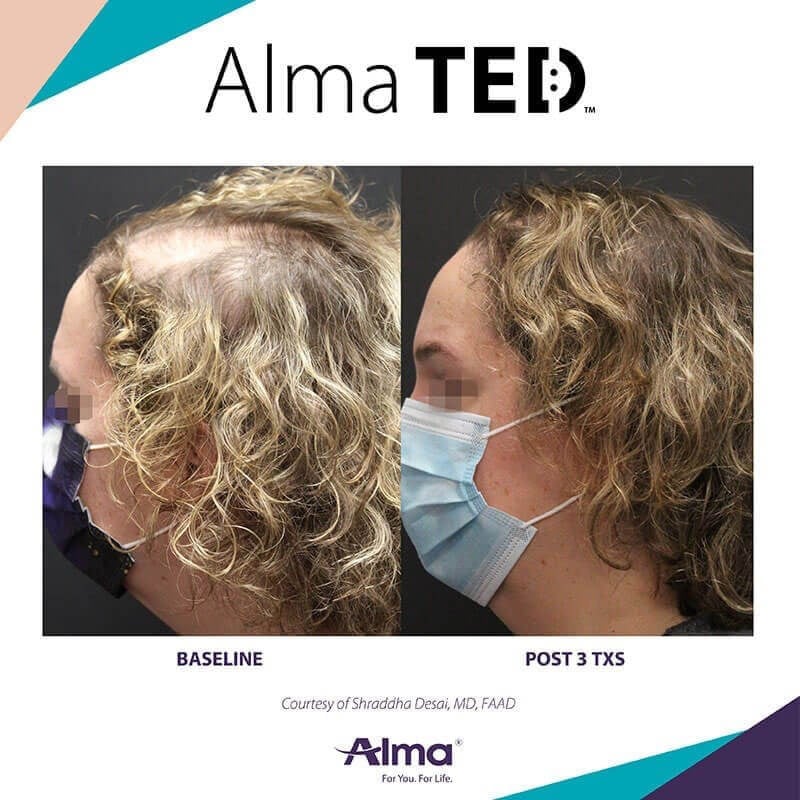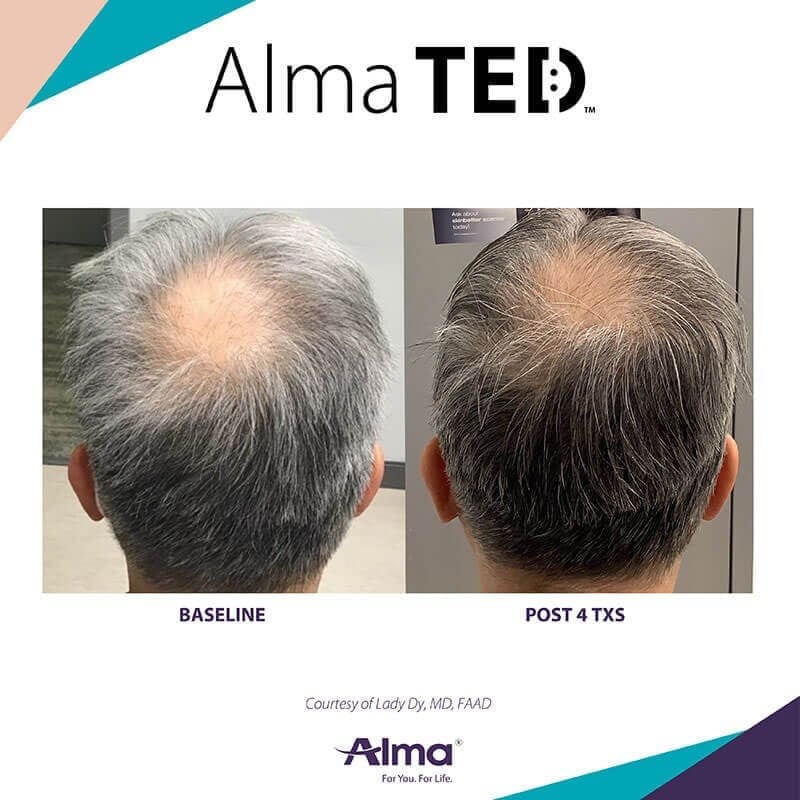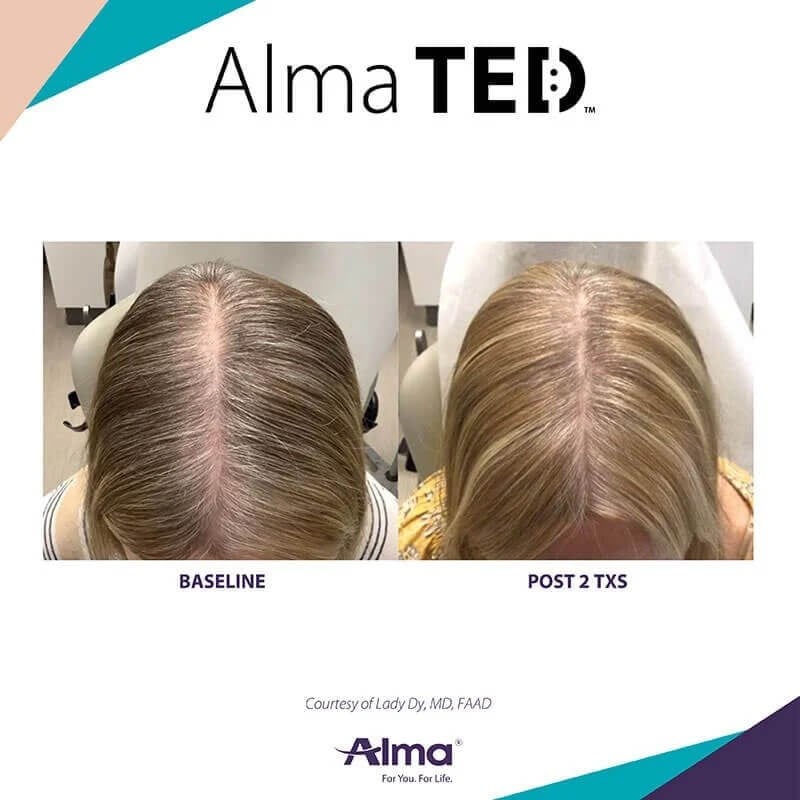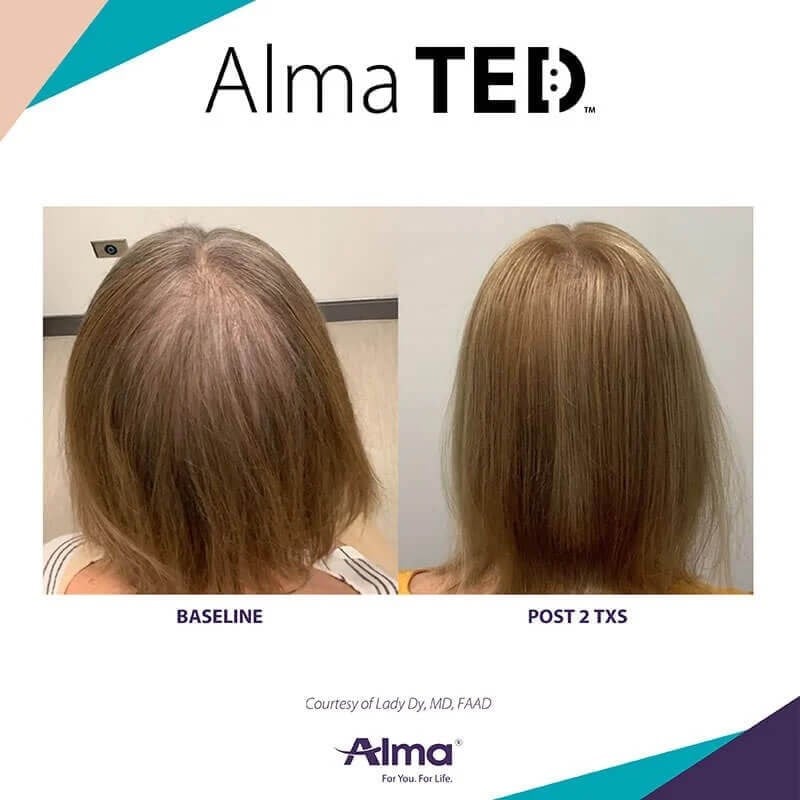 TED Hair Restoration FAQ
What is the cost of TED hair restoration?
The price varies based on the number of procedures needed for your goals. During your first consultation, our team will understand your needs and discuss your hair growth goals prior to providing a customized treatment plan, which will include pricing.
What number of Alma TED treatments are necessary?
We advise that you explore treatment options as soon as hair thinning or hair loss is noticed. The total number of TED treatments will differ according to the condition of the hair loss. Observable outcomes are typically attained following the starting set of three treatment sessions set over the course of one month.
Does hair restoration by Alma TED hurt?
Most people say there is little to no discomfort during the procedure. The cutting-edge device employs ultrasound waves and pressurized air to help absorb the TED+ Hair Care Formula deep into your scalp, which is not expected to be painful.
Encore Hair Center Reviews
Dear Anne Michelle: I waited to send this until both my daughters (and my grandchildren) had a chance to see your great handiwork. They all thought the wig was absolutely perfect and made me look like my old self again. It does make a radical improvement and is a tremendous boost to morale. Please take a well-deserved bow for what you and your great skill were able to do for me. With appreciation and gratitude, O.H.
As a 21-year-old suffering from hair loss, my self-esteem took a significant blow. I hated wearing my hair down and was always self-conscious people would notice my bald patches and thinning hair. However, all of that changed when I discovered AnneMichelle Hair, a hair restoration salon that gave me my confidence back and transformed my life! From the moment I stepped into AnneMichelle Hair, I was greeted with warmth and understanding. AnneMichelle was not only an expert in her field but also compassionate and she truly empathized with the emotional toll of hair loss. We discussed my specific needs, lifestyle, and desired outcome in great detail. She took the time to answer all of my questions, providing me with the information and assurance I needed to make an informed decision. Together, we determined that a custom two-part hair piece would be the best solution for me, and I have loved wearing it since the moment it went on my head! Not only did AnneMichelle provide me with physical restoration, but she also offered unwavering emotional support throughout the entire process.Today, I have a newfound sense of confidence I never thought I would have again! I am no longer held back by my hair loss; instead, I am empowered to live life to the fullest, confident in my appearance and ready to conquer the world.
Taking the first step is hard but it is so empowering. I suffered in silence with my hair loss for years, thinking I could treat it myself - I just needed to find the right product. I wasted time and money and my hair loss continued to get worse. Then one afternoon I came across AnneMichelle's website and I suddenly felt really hopeful. I just knew she could help me but I needed to take that first step of talking openly about my hair loss. My on-line consultation with AnneMichelle was amazing and so freeing. She made me feel comfortable and not alone. She listened and helped me devise a hair recovery program specific to me with realistic and attainable goals. I'm finally on a solid hair recovery path and I have the best guide. AnneMichelle is fantastic!!
I have been a client of AnneMichelle's for greater than six years now. I was diagnosed with an autoimmune condition called lichen planus which caused a good size bald spot on the back of my scalp. The cause is unknown and the treatment limited. The dermatological treatment of this condition, in my case, was unsuccessful and was not helpful with the cosmetic issue either. I was a woman in my mid 50's and had thought of myself as still attractive until this happened. I was extremely stressed and distraught. Luckily, I found AnneMichelle who has been amazing. She not only assisted with creating a custom partial hairpiece, she actually worked with me to regrow hair surrounding the bald spot. During flare-ups, my scalp was red, inflamed, and sore. She used a variety of treatments taking an active interest in getting my scalp healthier to prevent additional hair loss. Most of my hair has grown back now and I have been able to go without a hairpiece thanks to the way she styles my hair to cover the area. I never realized the various options that were available. I will be forever grateful for Anne Michelle's knowledge, caring, and expertise.
My hair was thinning rapidly and I needed help. AnneMichelle assured me she could help. Together, we explored several solutions in order to find one that suited me best. I now have a beautiful wig that no one can believe is a wig. From the start, I received comments such as "you look 20 years younger," and "great hair." The wig has boosted my morale and my appearance. The experience of working with AnneMichelle was a total pleasure.
Get In Touch
Learn More About Encore Hair Center
About Us
Related Procedures